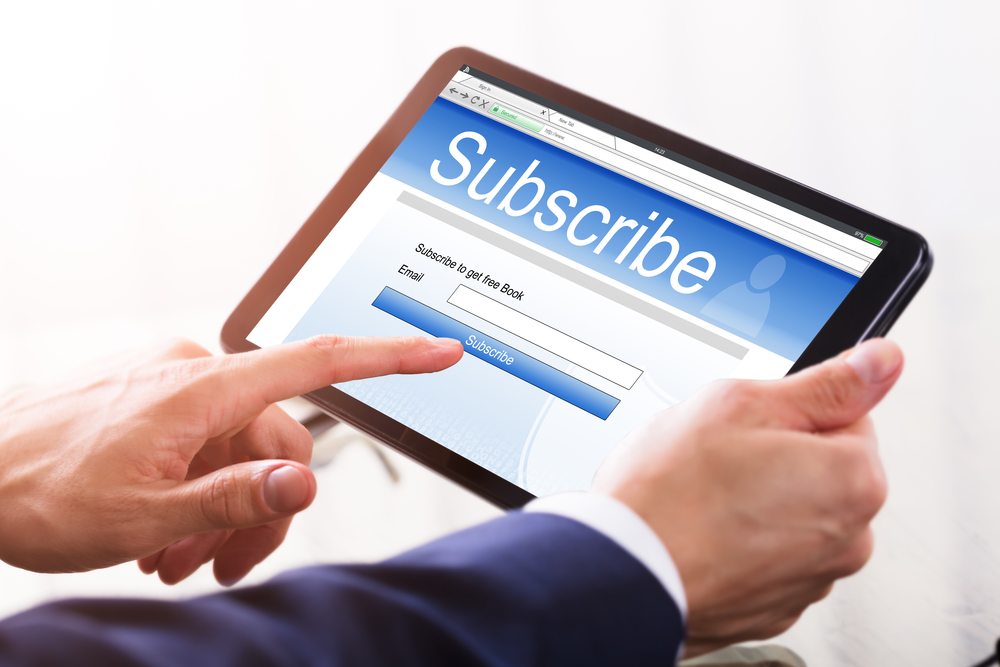 Are Subscription Models the Future of Business?
Dec 8, 2021 3 minute Read
The subscription model can be a true game-changer for your business. While the concept may seem new, the subscription business model has been around for decades. And with the increasing popularity of subscription models amongst businesses of all sizes, it's time to consider whether this is the future of business.
Businesses seem to be flocking to this revenue model left and right. Growth rates for subscription businesses soared during the pandemic. And why not? It's like having a guaranteed paycheck every day of the year without having to worry about invoicing clients.
The concept of subscription models is fairly simple. A service provider charges customers a set amount for services rendered at regular intervals without any middlemen or third-party interference.
If you're familiar with popular SaaS (software-as-a-service) software companies like Salesforce, their revenue model is based on subscriptions. The same can be said about other online businesses such as Dollar Shave Club, which offers razor blades delivered monthly at a flat fee, or Spotify, which allows users to stream music ad-free for $10 per month.
The questions is, if subscriptions are the future then how should you consider adopting this business model?
Why the Subscription Economy Is So Popular
With subscription models, customers pay a monthly or annual fee for ongoing access to services. Instead of one-off purchases, customers subscribe to their favorite products and services.
Because of this, subscription-based businesses tend to be more successful than traditional businesses (at least in recent years). They can provide better customer service, retain customers for longer, and develop strong relationships with their customers.
Purchase Options for All Budgets
More and more businesses are using monthly subscription models because it's a cost-effective way to deliver the products or services a customer needs.
One of the main advantages of using subscriptions is that it gives you the ability to offer payment plans geared toward each customer's budget. For example, if you have clients who want your services but might not be able to pay your full fee at once, you can offer a payment plan where they pay per month instead of annually. Some subscription models even allow customers to pay even lower monthly rates by altering how much they're allowed to access in a given month.
The point is that customers can access and pay for your service no matter their income or budget. Of course, paying for a product outright or annually grants a bigger discount, but they pay more up front. Luckily for merchants, most customers don't want to pay so much all at once, which means you make more off them.
It's easier to commit to smaller payments, which can attract more people and eliminate the intimidation of making a large purchase. It's a win-win.
Tweaking of Subscription Offerings
One of the best ways to make sure you're offering a subscription model that makes sense is to talk to your customers and potential customers about it. What do they like? What do they dislike? What changes would make it better?
Your customers and potential customers likely aren't as focused on the details of how you structure your new subscription model as you are. They just want to know what they're paying for, why they're paying for it, and when they'll be billed for it.
The best way to figure out what kinds of subscriptions are most effective for your business is to conduct some experiments with different kinds of models. If you try out a few different models, you're more likely to find one that really works for both your business and your customer base.
The ability to tweak your subscription pricing helps you connect better with the needs and wants of your customers so you can ensure they keep paying.
Sales on Autopilot
The beauty behind recurring billing subscriptions is that they can be automated. You don't need to be sending reminders to your customers or chasing payments every month because it's all handled by an online payment processor.
Subscription billing allows businesses to create predictable revenue streams by locking in customers for recurring payments. This is attractive to any company that sells a service or physical product with an ongoing cost, such as subscriptions for cloud computing, streaming media or e-commerce software.
The subscription model also is attractive to companies that want to avoid one-off sales and the uncertainty they bring. Recurring payments provide a reliable stream of income and help prevent companies from having to constantly search for new clients and sell new products and services.
While there are risks associated with the recurring model — most notably the potential for cancellations — there also are significant benefits.
Because the monthly revenue is pre-established, subscription models provide a reliable and predictable source of income, and it's easy to see how they will scale over time. Unlike a client list or recurring purchase orders, a subscription business does not require you to spend time finding new customers.
Risks for the Subscription Services Model
Some of the drawbacks to subscription pricing are here to stay for the time being. But as we head further into the future of e-commerce and the subscription economy continues to expand and improve, these drawbacks should see some positives changes.
Subscription Churn
It's easy for customers to cancel their subscriptions if they aren't happy with your product or service Risk of over-selling – if your sales team only focuses on closing sales and doesn't also take care of customer retention, you could end up with too many clients and not enough revenue.
Subscriptions make money when customers do not cancel their plans. Churn is the percentage of customers who cancel their subscriptions in any given period (typically one month). If your churn rate is too high, you won't be making enough money from subscriptions to sustain yourself.
Supply Issues
There is one common problem with subscription models: the product or service might not be delivered on time if there's a supply issue. If the company doesn't have enough stock to send to their customers, they will lose them forever. Waiting weeks or months to get a product you've already paid for is not only frustrating, but it can also hurt your business if you lose customers during that time.
This also applies to digital products. It might be difficult to imagine a supply of digital issues—everything just gets downloaded, right? But what happens if you somehow lose access to digital content that you sell access to? Take Spotify as an example. They sell access to streaming music and podcasts, but they don't own that music or those podcasts. If their arrangement changes with record labels and they aren't able to distribute certain songs or artists, then customers no longer have access. How do customers feel about this level of instability?
This is more often experienced with digital subscriptions to video streaming services like Netflix. To their credit, they have adjusted the customer experience to look forward to content disappearing by providing a countdown or a watch-before-it's-gone section.
Missed Payments
A subscription model has the potential of recurring revenue. However, it carries a lot of risk of chargebacks. It can also have unwanted auto-renewals due to customers' failure to cancel their subscriptions at the end of the term or customers forgetting to do so. Subscription billing is risky for both the vendor and the subscription service provider.
Constant missed payments can lead to serious cash flow issues for your business, which in turn can lead to slow deliveries, lost sales and even legal troubles. To prevent these problems from happening, you need to manage your subscription model carefully from the start.
The Subscription Economy Is the Future. Are You on Board?
Many popular subscription companies have made the switch over to this model of pricing. Adobe, Microsoft Office, Amazon Prime. These companies and more saw an opportunity for growth. An opportunity that would allow them to continue to scale beyond what they've already accomplished. They've halted piracy in its tracks and become more customer-centric and service-oriented rather than purely transactional.
This is the future. The drawbacks, though significant, do not indicate the death of a company. Rather, they signify the path for change. The truth is that subscription models offer benefits that are good for both businesses and their customers. They can help keep costs down, reduce stress over payments, build trust with your customers and increase your customer base. It's about the building customer relationships, creating a lifestyle, and––most importantly––providing customer lifetime value.
In the meantime, subscription pricing is high risk. For you to succeed, you need a high-risk merchant account.
DirectPayNet provides you with merchant services dedicated to high-risk industries and sellers, like you. We will connect you with a payment processor that handles your business model with ease so you can grow. Contact us now.