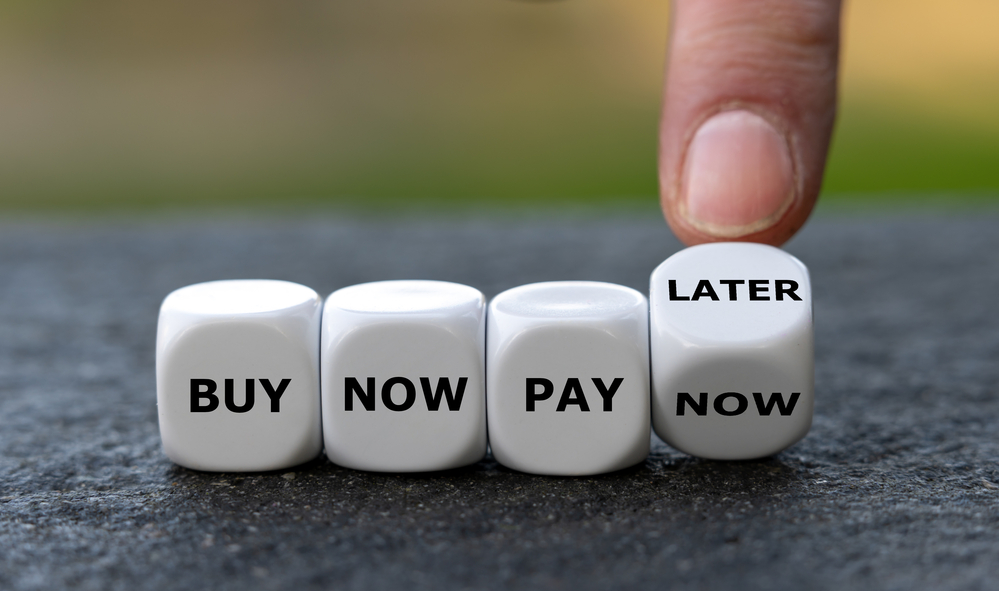 BNPL for Everyday Purchases? This Payment Option Is Lined with Gold for Merchants
May 5, 2023 3 minutes
In recent years, Buy Now, Pay Later (BNPL) services have gained significant traction among Americans, revolutionizing the way consumers approach their purchases. While traditionally associated with larger-ticket items like electronics and furniture, BNPL has now expanded into everyday products, like to buy groceries or home goods.
This shift in consumer behavior presents a golden opportunity for merchants to adapt and cater to the evolving needs of their customers. By offering BNPL as a payment method, merchants can capitalize on this trend and foster a more seamless and flexible shopping experience.
In this blog post, we will delve into the world of BNPL, explore why it has become popular among Americans for everyday items, and discuss why merchants should always have BNPL as a payment option.
Why Americans are Embracing BNPL
There are two main reasons Americans are using BNPL services more than ever today.
1. Interest in alternative payment methods: As technology continues to advance, consumers are seeking more innovative and convenient ways to make purchases. BNPL services offer a fresh alternative to traditional payment methods, such as credit cards, attracting an increasingly tech-savvy and digital-oriented population.
2. Desire for flexible payment options: The modern consumer values flexibility, and BNPL services deliver just that. They allow shoppers to break down their purchases into smaller, manageable installments without the long-term commitment of a credit card. This flexibility has made BNPL an attractive option for Americans purchasing everyday items.
The #1 BNPL Benefit for Consumers
There are many benefits of BNPL, but right now the only one they care about is interest-free payments. Bank account balances go down slower without financial consequence. Many BNPL providers offer zero-interest payment options, allowing consumers to spread the cost of their purchases without incurring additional fees.
Consumers use this with everyday items because small balances add up. While some are just in the habit of embracing BNPL for all their purchases, others like to see how much they're really racking up before calling their spending spree quits. And when there are no late fees and interest rates are zero, there's very little risk.
Plus, breaking down everyday purchases like grocery shopping means they have more room to make bigger purchases without feeling the burn.
Payment installments is the future. Prep now.
Why Merchants Need to Hop on the BNPL Bandwagon
For merchants, offering BNPL can be a great way to increase sales and customer loyalty. By providing customers with an affordable payment plan, merchants can encourage more people to make purchases that they may not have been able to afford otherwise.
Additionally, BNPL can help merchants increase their conversion rates by making it easier for customers to complete their purchase.
Essentially, there's no reason not to offer BNPL at checkout.
BNLP Benefits for Merchants
Buy Now Pay Later offers merchants a range of benefits, including:
Expanded Customer Base – BNPL makes larger purchases more affordable, allowing merchants to reach a wider customer base.
Increased Conversion Rates – Customers who use BNPL are much more likely to complete their purchase.
Improved Customer Loyalty – Offering BNPL can help build customer loyalty and trust in your brand.
Higher Average Cart Value – Merchants who offer BNPL have seen an increase in their average cart value by up to 60%.
Lower Return Rates – Customers who use BNPL are less likely to return their purchases, resulting in lower return rates for merchants.
Removes Buyer Hesitation – By providing customers with flexible payment options, buyers are more likely to make the purchase without hesitation.
Improved Cash Flow – With BNPL, merchants can receive payments faster and improve their cash flow cycle.
Better Insights on Customers – By leveraging data from BNPL providers, merchants can gain better insights into their customers' buying habits and preferences.
Reduced Risk of Fraud and Chargebacks – instances of fraud are handled through the BNPL provider, not you, reducing your risk significantly.
Lower Payment Processing Costs – Depending on your current rate or industry, using a Buy Now, Pay Later service could be significantly cheaper in terms of fees.
Overall, BNPL is an excellent payment option for both merchants and customers alike. It provides an easy and convenient way for customers to make larger purchases without having to worry about the financial burden of a large one-time payment.
For merchants, offering this type of payment option can be beneficial in terms of increased sales, higher conversion rates, and better customer relationships.
Things to Consider When Choosing a BNPL Service
According to a recent survey, more than half of Americans have used BNPL services over the last year for everyday purchases such as grocery bills and clothing instead of risking credit card debt. With this growing trend, e-commerce retailers should consider offering BNPL services at checkout even if they don't sell high-ticket items (which is what the service was typically used for in the past).
When selecting a BNPL service, merchants should keep several factors in mind. Eligibility criteria is one of the most important considerations; some services may only be available to customers with good credit scores, while others may offer more lenient terms. Fees and payment flexibility are also important factors to consider when choosing a BNPL service.
Merchants should also weigh the pros and cons of offering two different BNPL services at checkout. On one hand, it can be beneficial to provide customers with multiple payment options; on the other hand, having too many payment offerings can lead to confusion or frustration among customers who don't understand how each works.
Offering multiple BNPL services may also be a breach in one or both terms of service.
One last thing to consider is the win-win-win golden scenario with BNPL. Lenders win the most, merchants win due to the benefits mentioned previously, and customers win because they get to pay how they want without risk. The rise in this trend grew from the pandemic, so please pay attention to the provider you choose to partner with so your "win" doesn't diminish.
Popular BNPL Services
The following is a list of some of the most popular BNPL apps available on the market:
Afterpay: This service allows customers to pay for their purchase in four installments over six weeks with no interest or fees.
Affirm: This service offers customers flexible payment plans over three, six or twelve months with no hidden fees or surprises.
Klarna: This service allows customers to split their purchase into multiple equal payments over time with no additional costs or interest charges.
Sezzle: This service provides short-term loans with no interest and no reporting to credit bureaus.
And then there are other options that you might be able to promote without being able to implement, like PayPal's Pay in 4 or Apple Pay Later. This would be a good method for if you want customers to use a BNPL service so you can benefit from the fraud mitigation aspect without having to open an account with that provider.
With huge retailers like Walmart and Amazon offering these services for grocery shoppers and big spenders, alike, there's no reason you shouldn't use Buy Now, Pay Later too.
You can even have a 1st-party BNPL. Find out more here.
Potential Drawbacks Before You Dive into the BNPL Universe
While the advantages of offering BNPL services are evident, merchants must also consider the potential drawbacks and challenges associated with this payment method. One such concern is the fees and costs for merchants. BNPL providers typically charge a percentage fee on each transaction, which may be higher than those associated with traditional payment methods like credit cards.
Merchants must weigh the potential increase in sales and customer satisfaction against these additional costs to determine if BNPL is a financially viable option for their business.
Another potential drawback is managing customer credit risk. With BNPL, customers can defer payments, increasing the risk of default or late payments. Merchants need to ensure that their BNPL provider has robust systems in place to assess customers' creditworthiness and minimize the risk of non-payment.
Although BNPL providers generally assume the risk of customer defaults, a high rate of non-payment could still impact the reputation of both the merchant and the BNPL service.
Lastly, merchants must consider the ethical aspect of responsible lending practices when offering BNPL services. Critics argue that BNPL can encourage overspending and lead consumers into debt.
As a result, merchants should carefully choose their BNPL provider and ensure that they implement measures to promote responsible lending, such as transparent terms and conditions, spending limits, and customer education on the responsible use of BNPL services.
Here's How to Embrace The BNPL Revolution
The rise of BNPL services has undeniably transformed the way Americans purchase everyday items, creating an opportunity for merchants to adapt and cater to their customers' evolving needs. By offering BNPL as a payment method, merchants can enjoy increased sales, improved customer loyalty, and an expanded customer base.
However, it is essential to consider the potential drawbacks and challenges, such as fees, customer credit risk, and responsible lending practices before fully embracing BNPL.
If you're ready to reap the benefits of BNPL for your small business, consider opening a merchant account with DirectPayNet. As an industry-leading payment solutions provider, DirectPayNet can help you seamlessly integrate BNPL services into your payment options, ensuring a smooth and secure experience for both you and your customers.
Don't miss out on the opportunity to tap into the growing BNPL market – contact DirectPayNet today to open your merchant account and elevate your business to new heights.
DON'T IGNORE THIS TREND, OR YOUR BUSINESS WILL SUFFER. OPEN AN ACCOUNT TODAY!