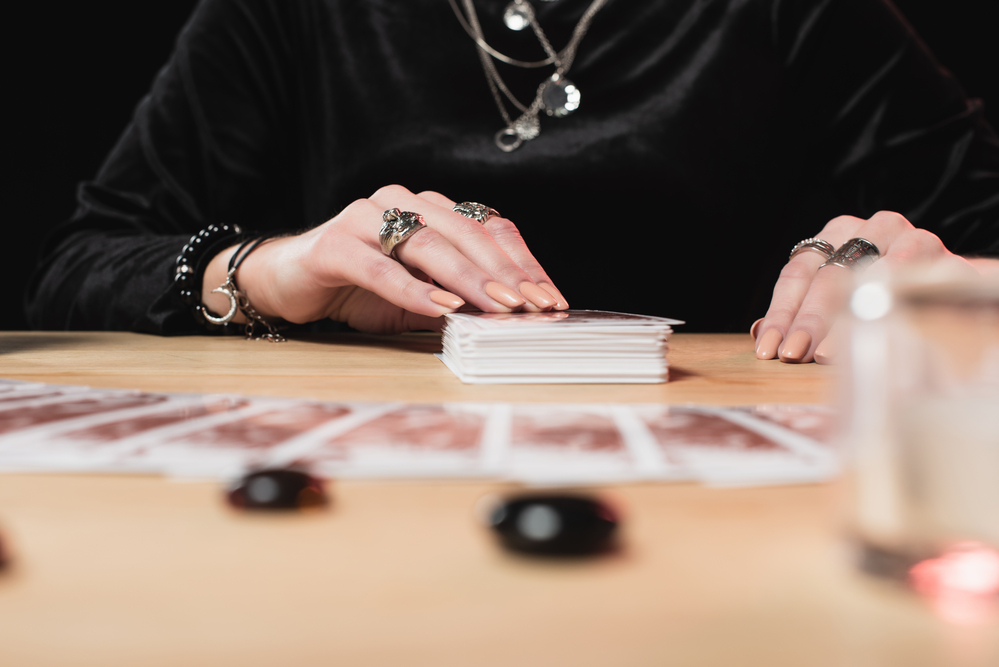 How to Align Your Psychic Business Plan with Your Clientele
Jul 20, 2022 3 minute Read
Being psychic is not a job, it's a gift. But if you want to make money with your gift, you need to learn how to run a business.
Case in point: if your psychic business isn't seeing an uptick during this recession, we have news for you: it's not what's written in the stars, it's the business plan you're following.
People need clarity. They seek wellness through alternative means. And not just people, businesses too.
That's where you come in. But if you don't have the right business plan to guide yourself to success, how can you expect to guide business owners?
Today, we'll walk you through some of the steps involved in creating a business plan for your spiritual venture so you can build up your brand, target your audience, and leap to the positive side of Libra's scale.
1. Know what to consider in your psychic business plan.
There are many questions to consider when starting a psychic business. The following outline is a helpful guide for getting started:
What is your niche? How can you make your mediumship service unique?
What's the market like? Are there opportunities for growth and expansion in your area of expertise?
Who are your potential clients, and how do they make decisions about their needs and wants? Is there a way that you can provide something they want/need that isn't currently being offered in the marketplace (a new kind of product or service) or at a price that makes it more affordable than what's currently available (lower prices)?
These aren't the only questions you should ask, but they're a helpful start. Think of these as the foundation. Without their answers, your online psychic business will crumble.
2. Find your niche (business owners, new mothers, etc.).
Whether you have many gifts or just foresight, you need to hone it down. Working in the online space opens up competition from around the world, not just locally.
That begs the question: what's your niche market?
Who is your target client?
Your psychic business plan should focus on this niche so you can dominate it. You want to be the only psychic available focusing on performing X readings for Y people.
Let's start with who you should market to. Here are a few considerations to get your creative juices flowing:
Entrepreneurs who want to open a startup
People who already have their own business but want guidance on where to take it next
People who want to learn how to meditate
People who suffer from anxiety disorders, but would like to learn how to manage their symptoms
People who are too afraid to try new things
New parents who need reassurance that their a good mom/dad
Hopeless romantics who want to find a man/woman
The group that you target should be one that you connect with easily. As a psychic, your clients will be looking for empathy. If you don't understand the nature of your client, you won't be able to help them.
Some of these sound cliché, but just wait. Because once you combine it with part 2 of finding your niche, it'll turn into something unique.
What is your reading style?
So now that you know who you're targeting, you need to target your psychic reading style. Is it tarot card readings, human auras, crystal balls, numerology, palmistry, or clairvoyant?
Pick one as your main venture and maybe add a second one on special occasions. Think of it this way: if you build a business on a single type, you can create new businesses on the other types you excel at.
3. Pick a name that reflects you and resonates with your clients.
The next step to creating a psychic business plan is finding an appropriate name for your business. It should reflect the purpose and mission of your business, as well as be easily recognizable and memorable.
Make sure that the domain name is available before picking a name!
To help you choose an appropriate business name, consider these tips:
Keep it short, simple and easy to spell or pronounce
Choose words that are easy to remember (or just stick with your own name)
Choose words that are relevant to what you do, specifically.
4. Set your rates—but not too high!
Psychic businesses are all about helping people. That's why it's important to set your rates according to what your audience is willing to pay, what they can afford, and so you can make a real living.
Here are some factors you might want to consider when pricing your services:
Your experience level. If you're just starting out, then you'll probably charge less than if you've been practicing for years. It's OK; don't be afraid of charging less than other psychics in your area. Just make sure that the rate you choose reflects your level of experience and expertise.
The type of clientele you attract. If you attract high-end customers who are willing to spend more money, then it makes sense for you to charge more than someone who only attracts middle-class clients (if that's the case).
The amount of time your readings take. If a reading takes 30 minutes, then charging $300 is reasonable — but if it takes two hours, then charging $300 will limit how many clients you can see per day.
5. Learn the local, federal, international, and online laws surrounding mediums.
There are many different types of psychic businesses. You can have a storefront, a booth at a flea market or fair, or you might be a house call expert. Whatever your business idea is, it needs to be carefully thought out and planned.
If you're going to be a professional psychic, it's important to know the laws surrounding your business. Many states require you to register with the state and get a business license to practice. Some states allow you to work as a psychic unlicensed, while others do not. Some cities have ordinances that restrict or prohibit certain types of businesses, including psychics, mystics, and fortune telling providers.
And if you plan to offer your services across state lines or even internationally, you need to be sure you aren't violating any laws.
Online psychics might be grouped under business coaches or some type of coaching and advice service. Just be aware of where your business falls so you know what to expect from a legal standpoint.
6. Market yourself online and with traditional methods.
The next step in creating a psychic business plan is to market yourself. While advertising can be helpful and necessary, it's not the only way to market your skills as a psychic. Marketing yourself is about being authentic, consistent, and professional; it's about marketing your unique brand of psychic services. To do this effectively:
Be aware of your strengths and weaknesses
Know what makes you stand out from other psychics
Use social media (Facebook, Twitter) to share information with potential customers
Example: As a tarot reader, if it fits your audience, you can use Live streams (like on Facebook and Instagram) to provide quick 1-minute reading.
Another example of using technology to your advantage is creating a podcast. You can talk about psychic development and how you've grown as a medium as well as how your psychic abilities have helped people with real-world examples.
These are just a few samples of marketing plan ideas you can implement to boost your career as a psychic medium and create a successful business right now.
There's tradition to being a medium, and designing the right logo or poster will go a long way. Be creative, tradition, and forward-thinking to market yourself.
7. Establish a spiritual workspace
The first step to creating a spiritual workspace is to choose the space you will use for it.
This can be as simple as setting up a table in your living room, or it can be something more elaborate like creating an entire set. You must choose a place that feels right to you and where you will feel comfortable doing readings.
Whether you're performing online or in person, your space needs to reflect you, your power, and the desires of your clientele.
Spiritually is often forgotten when starting a business. Your psychic business plan should include some level of spiritually in every aspect.
A psychic business needs to be planned thoughtfully.
A psychic business, like any other job, requires careful planning. You won't make a profit if you don't write down your goals and objectives; otherwise, your business will always be unstable.
You need a plan that clearly defines what success looks like and how you can achieve it over time. But writing down these plans isn't enough—they also need to be reviewed regularly so they can stay relevant (and profitable).
Speaking of profitability, your psychic business plan won't mean much if you don't get your payments backend straightened out.
Your business is only as strong as the processing that powers it. If you want clients to pay, you need a way to accept credit cards. DirectPayNet will help.
As a high-risk merchant, you will easily be shut down by most banks and merchant account providers. DPN is different. Our speciality is on merchants like you and getting you the account and processing power you need to secure and scale your business.
Get in touch with our expert team to start the process today.