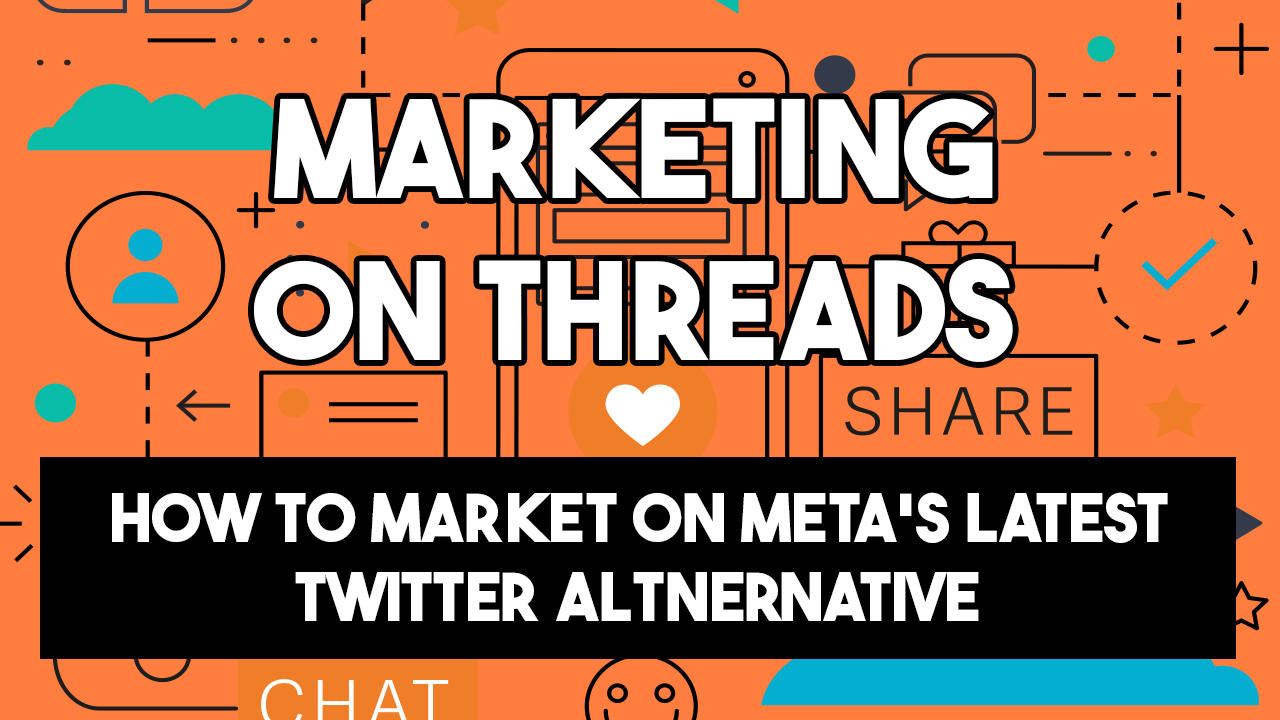 How to Market on Threads: A Guide
Jul 21, 2023 4 minutes
Threads, Meta's Twitter competitor, is a powerful new social media platform that has squeezed its way in at just the right time. Twitter is going wild, folks are looking for alternatives, and Threads is simple enough to just work.
It won't be like this forever, but for now it's exactly what the people need. A text-based social media platform that's so feature-less, the focus can only be on in-the-moment posts and conversing with others.
So the real question is: "how can I market on Threads?" We have the most concise, future-proof answer for you right here.
What is Threads?
Meta's Threads app is a new (essentially) text-based social media platform that's weaseled its way into the game. For the time being, all you really need to know is:
– Threads is a new app made by Meta (Facebook, Instagram, etc.)
– It's basically Twitter… but also not
– It will change VERY soon
That last part is maybe what you want to focus on most, but we'll get into a little further down.
How do I open a Threads account?
Threads is actually not as open as you might expect for a platform that wants to directly compete with Twitter.
The only way to access it (besides downloading it from the iOS app store or Google Play store) is by logging in with your Instagram account. Meaning, you must have an Instagram account to access Threads.
That's not typically a problem, but it no doubt does insert some barriers to entry for folks who don't have or want an IG profile.
(Also, Threads makes you agree to an absolute TON of extraneous data accesses which is a bit problematic in this era of data privacy and consumer protection…but here we are.)
Why should I open a Threads account?
As with any new social media platform, marketing opportunity arises. It's quite early to tell if Threads will be a huge success, but with several million users already signed up and active, it's worth exploring those opportunities.
We have a list below of how you can use Threads for your business, which covers why should open a Threads account in the first place.
If we boil it down, Threads offers two paths: start marketing from scratch or use your status from IG to gain a head start.
How does Threads differ from Twitter?
This is actually SUPER interesting. If you want a really deep dive into the differences between not just Threads and Twitter, but all social media networks and basically how Threads is truly in a category of its own, then read this article.
Let's break down, first, how they're similar. Both Twitter and Threads:
– Are text-based social networks
– Are conversational platforms
– Prefer short, bite-sized content
The interesting thing is how they differ, and there's only one difference that you need to consider: Twitter is chronological, Threads is algorithmic.
Right now, both operate chronologically. But Meta is aaaaall about the algorithm. The Facebook homepage is algorithmic, Instagram is too. Sure, there are options that allow you to see content only from accounts you follow, but the default is based on an algorithm.
One of the most interesting facts that maybe we should explore marketing-wise is that consumers think they want a timeline, but they actually want the algorithm. Discoverability and interaction is at its highest when a platform sorts algorithmically, not chronologically.
However that doesn't mean there isn't a place for the timeline. Twitter relies entirely on a timeline, and that alone puts it in its own social category. But look at TikTok; it's all about the algorithm and it's one the world's most popular and loved social network.
Will Threads beat Twitter?
They are different, so probably not. Twitter will always be focused on the here and now. It's the perfect platform for news and current events. Threads is great for evergreen content, or at least content that isn't so time-specific.
Both have their places. Twitter isn't going anywhere. It has a strong user base and is filled with real-time updates to anything happening in the world right now.
It does feel like there's a battle between Mark Zuckerberg and Elon Musk, but Threads is positioned as a Twitter alternative with a similar-but-unique user experience, not a Twitter clone.
You have to start thinking of Instagram's Threads differently. Not as a competitor for Twitter, but as a standalone app designed for algorithmic consumption. Your social media marketing strategies will differ on both platforms.
How can I market on Threads?
Right now, Threads is in its infancy, which means marketing is not really their focus. Threads wants users right now and influencer marketing later. But given that it's made by Meta and set to integrate with ActivityHub, digital marketing will be a major part of the platform. Expect it to be part of Pixel in the coming months.
Having said that, here's how you can start marketing on Threads and future-proof the branded content you publish today.
The 80/20 Rule
Engage and educate 80% of the time, promote your business 20% of the time. This rule applies more on text-based social networks than any other type, because it's far too easy to spit out promos 30x a day here. Don't do that. Focus on engaging with your audience.
– Educate – Teach your followers something new without the marketing plugs. Aim to provide value and position your account (and brand) as an authority in whatever it is you do.
– Engage – Your audience is just as powerful as you are. They can ask you public questions, write reviews, etc. for all to see. Engage with them directly and build up the rapport.
– Entertain – We're all in it for the memes, no? People don't always want to feel like they're in school, so make your content entertaining.
The platform has quite a high character limit, so it is easy to just copy and past long-form material. Instead of doing that, get creative. Break up your content and embrace the Threads format.
Converse with Your Audience
Threads is one of the easiest platforms to have a real, honest conversation with your audience. And that's exactly what your followers want on here: a conversation.
This is a perfect opportunity for you to learn about your audience and use that information to not only create a stronger connection with them, but also adjust your product to meet their needs.
There is no DM feature on Threads, but in our eyes it doesn't need one. This is the perfect place to keep everything you do and say public. Messaging always takes place on public threads of conversations, and being active on the platform means you have nothing to hide. Influencers might not like it at first, but with time it'll be a valued feature.
Use "Live" Features
There is no Threads Live like what exists on Facebook or Instagram at the moment, but there will be.
For now, though, you can converse live with your audience. Maybe host an AMA, set Threads-based Q&A sessions, or set "office hours" on the platform. This sort of live scheduling will let customers know you're online and ready to chat, which can help you appear reliable and engaging.
Schedule Your Content
Even if the platform is mostly about short-form text, you should still have a schedule for your main content. This ties in directly to the 80/20 rule. This way, you won't overly promote your business OR fail to promote it.
Post Visual Content
Just because the platform craves text-based content, you should still promote some type of visuals (even if it's just in GIFs). Break up the monotony of black-on-white text and add some color to your account.
While there are no hashtags yet nor ways to optimize your content, you can get a head start by adding hashtags into your posts and writing "SEO" captions for your visual posts to help them remain discoverable down the line.
Utilize the Threads Feature
If you press enter three times, you can start a new thread on Threads. Easy!
Use that to your advantage. You can publish an entire thread all at once, so it's easy to break up long-form content into bite-sized posts that remain connected.
Repurpose IG Content
Carousels for businesses on IG are generally used for how-tos and top 10s. You can repost that content on Threads by utilizing the previous suggestion of starting a thread.
Each post (though connected) would act as one page of your carousel. In fact, it would be easier to provide even more details or notes on a particular section since they all act as they're own mini post.
Your Threads profile is directly linked to your Instagram profile. There's even a little IG button, so users will always have access to that for a more visual illustration of your small business.
Write for an Algorithm
This is where most people will have trouble adjusting. You shouldn't write things based on a timeline. If you want something to remain chronological, you should publish it all under a thread.
Think of everything as a stand-alone nugget of information. Every thought, question, answer, photo, etc. is its own thing and the only thing that glues it all together is your brand. Eventually, Threads will offer some level of discoverability and organize the homepage based on an algorithm, so whatever you post must be optimized for that.
Marketing on Threads Is Just One Piece of the Puzzle
Every social platform is its own piece, really. They should stay connected but be self-sufficient. And all of them have the overall purpose of increasing awareness for your brand. Whether that's through customer engagement or promos, you need to be prepared for an influx of sales and traffic to your store.
Our goal here at DirectPayNet is to help get your customers not just to checkout, but through it. That's why we specialize in providing high-risk merchant accounts for entrepreneurs and business owners looking to streamline the checkout process.
With us as your partner, we'll set you up with everything you need to process payments at a good rate and avoid chargebacks or account freezes.