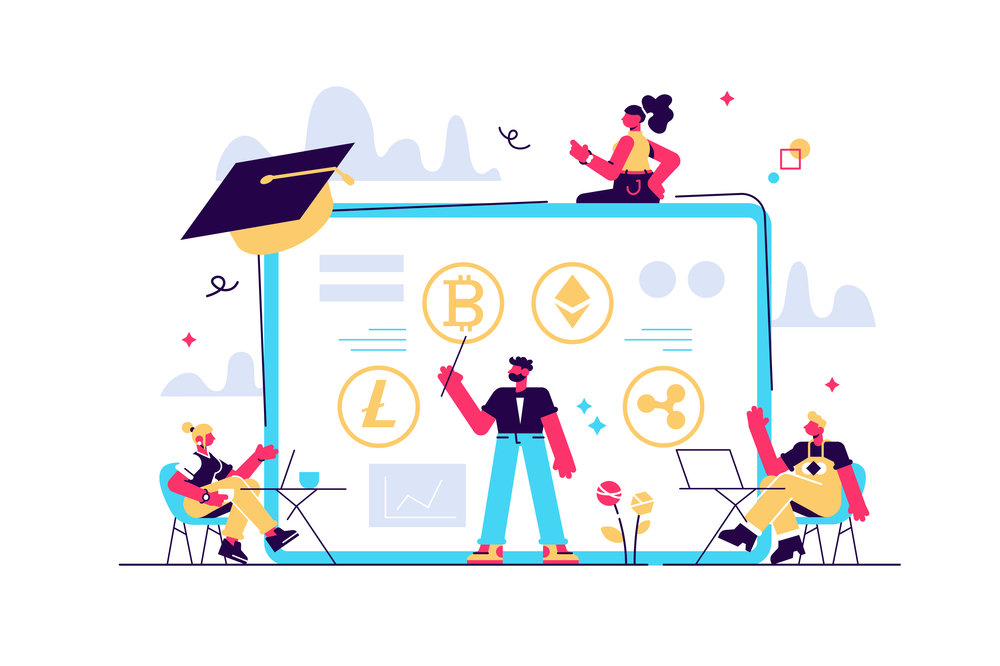 5 Strategies to Scale Your Crypto Coaching Business
May 16, 2022 4 minute Read
Hey Coin warriors, ready to take your cryptocurrency coaching biz to the next level? Or, at the very least, maintain a steady number of subscribers?
It's no beginner's secret that the cryptocurrency market is booming. The value of crypto (Bitcoin, Ethereum, Dogecoin, Solana, and other big coins) is around $2.5 trillion USD, and this number is rising rapidly.
Scaling your crypto coaching business isn't the easiest task, but it's well worth it. So, we're giving you 7 strategies to use if you want your online coaching business to grow.
1. Automate Everything You Can
Assuming you've been running your coaching business for a while and have a steady flow going, the best way to scale up is through automation.
This allows you and your staff to focus on more important things than mundane, trivial tasks that take up precious time. Things like marketing (emails, social media posts), payment handling, and pre-recorded video uploads.
Every coaching business is different. You'll know what to automate if you feel dragged down by a task or find yourself repeating the same thing over and over again. Those are things you want to take off your plate.
Automation also helps keep costs down. You can save on marketing, customer service, and website hosting as a crypto coach. Maybe you can find a way to use smart contracts within your program to get even more involved in the defi crypto world.
2. Use a Subscription-based Model
Once you get things automated, you should focus on customer retention. The best way is to use a subscription-based business model with membership packages. This will allow you to create long-term relationships with your customers and make them feel like part of a community (and less willing to leave).
We see too many coaches overcomplicating their business when all they need is one simple subscription plan with multiple levels — basic, intermediate, advanced — depending on how much time people want to spend learning about crypto.
For example, the basic package might come with access to your content library and nothing else. The intermediate package adds group coaching sessions and Q&A calls. The advanced package adds on monitoring for their first investment and 1-on-1 coaching.
When a customer has to actively pay each month for a service, they become less willing to do so the longer they're in the program.
By offering subscriptions, your customers don't have to think twice about it. Payments go through automatically. Though you should set up a solid disclaimer, refund, and cancellation policy to avoid chargebacks.
3. Create a Referral Program
A referral program is an excellent way of getting more clients without having to spend hours trying to market your services. You can set up a referral program on your website or even through an app.
This way, whenever your clients refer someone new, they'll get rewarded for doing so and so will you.
It's an easy way to get more customers because it leverages the power of word-of-mouth marketing. When customers recommend your product or service to their friends and family, they become advocates for your brand. And if they refer enough people who buy from you, they can earn rewards like crypto coins (btc, eth, sol, luna, or other altcoins).
You can also offer coins for folks who write reviews and provide testimonials. This incentivizes members of the community to do things that help grow the business, which helps it become more profitable over time.
Offering coins for referrals and testimonials is a win-win: you get more customers, they get more to investment.
4. Live Group Courses and 1-on-1 Sessions
This one is the most straightforward, but it's also the most difficult. It requires a lot of planning and preparation, but if you can put together a great class that people want to attend, they will pay hundreds or thousands of dollars for that experience.
Again, the live group courses can be included in a premium subscription package, but you can so offer others to join in for a price.
With tools like Zoom and Skype on-hand, hosting virtually is easy. Maybe you'll be able to take this concept a step further and offer in-person meetings, too. Maybe a yearly meetup or micro-community meetings once per month.
A lot of people hire a coach because they want a personalized approach to crypto investment. With 1-on-1 sessions, you can schedule a set time per week or month to chat with your customers, go over their portfolio, liquidity, and give them a individualized approach to investing.
1-on-1 can also incentivize participants to stay with your coaching program for longer.
5. Build a Community
Don't pass up the potential that online forums and groups have. You can create a community on Facebook, Slack, on your own site, or even the metaverse for members to ask questions to each other and help guide each other to financial success.
Basically what we're saying is that a community can coach themselves, allowing you to be a little more hands-off.
You can moderate the community, giving members specific topics each week to discuss or research, answering questions they might have, or saying, "good comment! We'll cover that in the next session."
It creates a greater sense of involvement, an ecosystem of education, and that's what will scale your crypto coaching business. Who knows, maybe it will lead to creating their own ICO…or maybe just a few NFTs.
To Scale as a Crypto Coach, Your Platform Needs a Strong Foundation
You can increase your cryptocurrency coaching business' revenue by focusing on offering more value, getting clear on your niche, creating packaged services, and building a solid customer service reputation.
Scaling yourself, as a coach and entrepreneur, is important. But having the scaling capabilities alone isn't enough, you also have to keep in mind your clients and their needs. Easily accessible, quality content like tutorials, investment advice, blockchain fundamentals, and cryptocurrency trading will guide members from zero to 100 in their ability to navigate the crypto market.
Lastly, you must always ask yourself how you will be able to sustain your coaching business financially. Use our step-by-step guide to start scaling your crypto coaching program.
Coaching, crypto, and subscription model businesses are inherently high risk. You need a payment processor that backs your business so you can continue providing quality content without hiccups.
Work with DirectPayNet to get a high-risk merchant account for crypto coaching, connect with a high-risk payment processor, and sit back and watch the cash flow in. Get in touch today to get started.