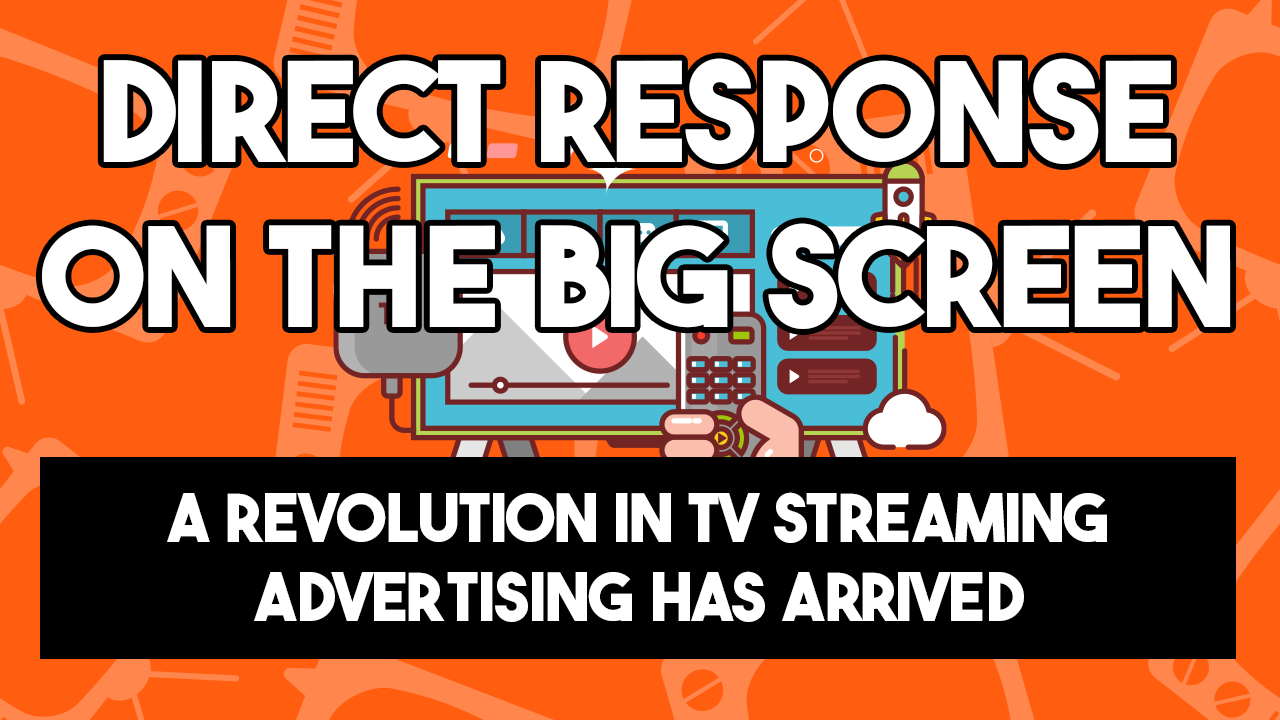 Stream, Shop, Smile: Roku and Shopify's Revolutionary Shopping Experience Breakdown
Jul 26, 2023 2 minutes
In the rapidly-evolving digital world, one might think the possibilities for advertising and e-commerce are endless. Yet, a noticeable gap persists: the world of TV streaming has largely remained untouched.
Well, maybe not untouched but more unrealized. Ads have existed on streaming since streaming's birth. Viewers today enjoy a plethora of content on their TV screens, with modern platforms bringing everything from mainstream TV shows to niche documentaries.
Yet, despite these advancements, direct response advertising on streaming has remained largely unexplored. A vast potential audience, sitting right in front of the largest screen in their homes, is left untapped.
Roku, Inc and Shopify have teamed up to bridge that gap, and it could spell a lucrative future for direct response on any streaming platform.
The Unresolved Dilemma: E-Commerce's Unsteady Venture into TV Streaming
How can this paradox exist in an age of digital interconnectedness?
This is the burning question that has often left marketers and advertisers in a conundrum. The promise of TV streaming platforms is undeniable – offering a massive, engaged audience that consumes hours of content each day. Yet, the bridge from streaming entertainment to making a purchase has not been built.
Until now, viewers' purchasing journey was interrupted when they saw a product they wanted on a TV streaming platform.
The process involved picking up another device, scanning a QR code or searching for the product anew, and completing the purchase – a disengaging and time-consuming experience. Furthermore, advertisers were missing out on valuable data and insights, making it difficult to understand purchasing trends and behaviors. It almost seemed like a waste to attempt any ad campaign on TV streaming.
The status quo was not sustainable, and there was a strong need for a groundbreaking solution that could revolutionize the relationship between TV streaming, advertising, and e-commerce.
The Revolution: Roku's Innovative Shopify Partnership
Shopify (though not our favorite platform) has teamed up with Roku to offer a transformative solution to this persistent challenge. This innovative collaboration will allow viewers to purchase products directly from Shopify merchant ads on their TV screens, simply by pressing a button on their Roku remote.
For the first time, streamers will no longer have to switch devices to complete their purchases. They can learn more about a product and purchase it directly from their TV, all while enjoying their favorite content.
Peter Hamilton, Senior Director of Ad Innovation at Roku, stated, "…Roku democratizes access to TV advertising, and now, we're collapsing the funnel for Shopify's merchants. This is a great example of Roku's unique platform position to make advertisers unmissable across the streamer's journey, from power on to purchase complete."
The initiative will utilize Roku Action Ads and use Roku Pay, Roku's secure payments platform (instead of Shop Pay, Shopify's payment gateway), to check out seamlessly and return to their streaming experience immediately after completing the purchase. An email confirmation from the merchant will assure them that their transaction has been successfully processed.
Think Amazon's Alexa voice shopping and how that changed home shopping and convenience.
This breakthrough partnership transforms TV streaming platforms into a dynamic advertising channel. It is the first commerce integration for independent Shopify merchants on TV streaming platforms, creating an entirely new channel for Shopify merchants to explore.
Brands such as the men's apparel brand True Classic, the game-based connected rower Ergatta, and wellness brand Olly have already signed on as initial partners.
The Future: New Data and the Future of Direct Response on TV Streaming
The introduction of Shopify's purchase experience to television is a game-changer for the industry. Not only does it bring e-commerce to a whole new audience, but it also opens up a world of opportunities for advertisers.
Shopify advertisers will receive more customer data, allowing them greater insights into purchasing trends. They will also have direct point-of-sale access to Roku's audience, marking a significant milestone in their ongoing commerce partnership.
The transformative integration of Roku and Shopify is a giant leap forward for e-commerce and TV advertising. It seamlessly bridges the gap between content consumption and e-commerce, offering viewers a unique shopping experience right from their TV screens.
The future appears bright for all ecommerce and direct response merchants, not just those on Shopify or on Roku's ad platform. This partnership is just the beginning of the next era in direct response advertising. It's not so unimaginable that Apple TV and Amazon Fire will jump on board this revenue train. It's likely that even Microsoft and Meta will get in on the profitable streaming ad, from Xbox to VR.
Prepare for Your TV Advertising Future Today
In our opinion, the best solution would be for each streaming service to provide point-and-click purchases. But Netflix, Hulu, Disney, and all the rest don't have the capabilities to processing payments in this way.
Therefore, it's up to big shopping platforms like Shopify and streaming platforms, not services, to team up and offer this advertising power to direct response merchants…for now.
As new as this sounds, there is a way for you to prepare for a future with streaming advertising. Opening a merchant account for your business will put the backend of your payments ecosystem in place. Once the floodgates of direct response on TV streaming open, you'll want to be ready.
DirectPayNet is a merchant account provider that specializes in direct response. Get in touch with us today to talk more about your business, its needs, and the future we can prepare you for.