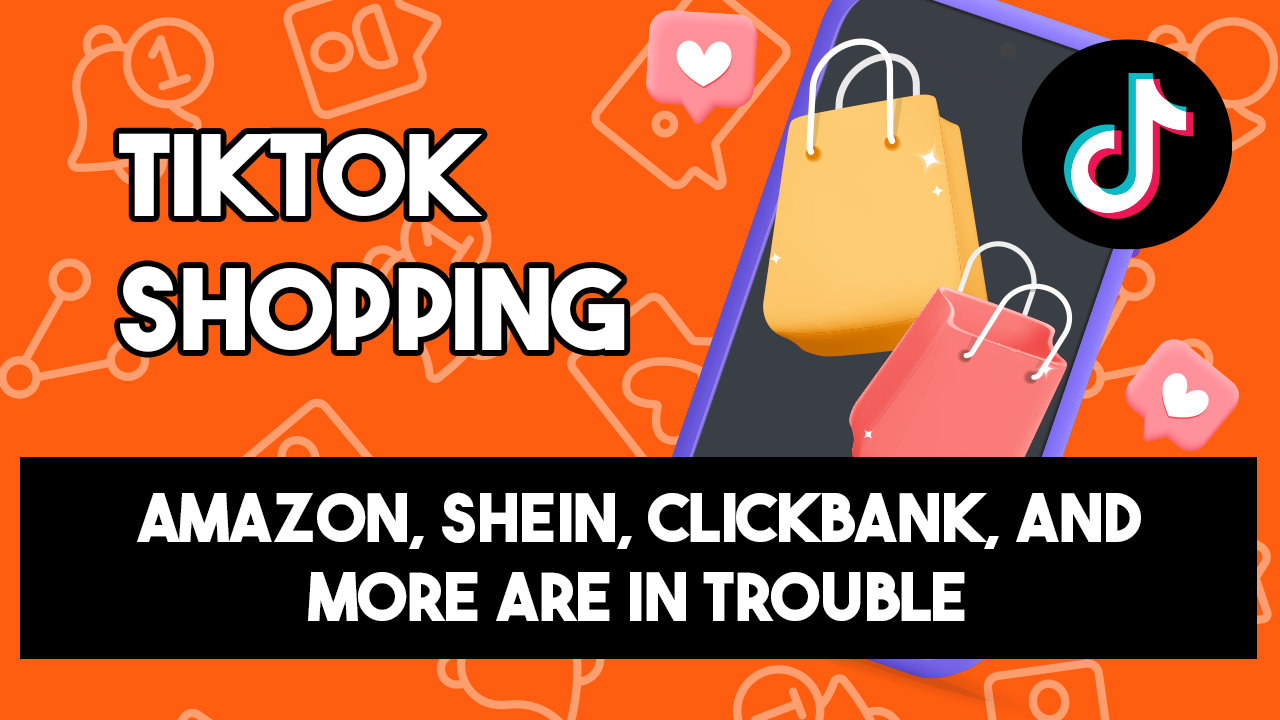 What TikTok's Online Store Means for Amazon, Shein, and ClickBank
Aug 2, 2023
Digital marketing trends have revealed a new horizon where social media platforms aren't just about connecting with friends or finding entertainment anymore.
In a revolutionary step forward, the concept of a fully-fledged online retail store integrated within a short-form video platform has emerged. This inventive approach seeks to redefine e-commerce as we know it, providing a unique shopping experience for users, and emerging as a potential competitor to giants like Amazon, Shein, and Temu.
TikTok, right now, is a consumer platform. But TikTok for business is the next step in their plan for domination.
A New Way of Shopping
In order to provide a seamless and engaging shopping experience, TikTok is devising an online retail store that will exist independently from the conventional shopping features on its platform.
Unlike the current model where brands pay a commission to showcase their products, their approach is distinctly customer-centric.
As part of this novel venture, TikTok is acquiring its own inventory, thus ensuring complete control over the quality of products and overall customer experience. It will range from handy kitchen gadgets to intriguing toys, primarily sourced from manufacturers in China—not unsurprising as TikTok is based on of Singapore, meaning it has solid connects in Southeast Asia.
A few things come to mind on ByteDance TikTok app's latest venture:
1. Is this dropshipping?
2. What does this mean for Amazon?
3. Can we really trust TikTok shopping?
4. Is this like Weibo but for America?
Shopping and Entertainment All in a Scroll and a Swipe
In the new format, users will be able to seamlessly switch between the existing shopping feature and the new online retail store, all within the same app. A dedicated e-commerce tab will provide a consolidated shopping experience. This "central hub" promises to be a one-stop solution for users to discover sales promotions, manage their orders, and track their shopping history.
Learning and Evolving
The new direction in e-commerce strategy is an outcome of observations and insights gathered over time. One key issue was the struggle of Chinese manufacturers to deliver satisfactory customer service to Western consumers.
Additionally, the long shipping times from China to Western countries was a hindering factor. The new online retail store model aims to tackle these issues head-on, ensuring a better customer experience.
We're eager to see just how those issues—ones that affect virtually every online store—will be addressed or remedied.
Pioneering the Direct Selling Frontier
The move towards direct selling of physical goods is relatively uncharted territory for Western social media companies. Scaling this retail model into a multi-billion dollar business demands substantial investment in areas such as warehousing and supply chain management.
We've seen this fail on Instagram, but TikTok really might have a good a strategy to get quality products from trusted sellers on their platform.
How TikTok's New Retail Venture Might Redefine E-commerce
TikTok has thrown down the gauntlet in the world of online retail. With the imminent launch of its U.S. online storefront, TikTok is set to directly challenge established e-commerce behemoths such as Amazon and Shein, and even online affiliate marketing platforms such as ClickBank.
This venture takes TikTok's existing 'TikTok Shop' feature to an entirely new level. Rather than just hosting brands on its platform, TikTok is set to manage its own inventory. What sets this move apart is that the company intends to handle every aspect of the retail process, from product sourcing to logistics and customer service.
Learning from Instagram's Mistakes
Despite the increasing trend of social commerce, not all attempts to combine social media with e-commerce have been successful. A prime example of this is the Instagram Shopping Tab, which failed to meet expectations.
Instagram, much like TikTok, has a vast user base and seemed to be a promising platform for e-commerce business. Instagram introduced a shopping tab, a dedicated space for users to browse and purchase products directly within the app. Despite this initiative, the feature didn't resonate well with its users and failed to make a significant impact in the e-commerce industry.
TikTok learned from this failed experiment on social shopping. That combined with its superior algorithm, specifically the For You page, makes its platform ideal for live shopping.
Instagram hasn't completely failed when it comes to online shopping, but it does much better with ads in the feed than with a dedicated shopping tab.
For Amazon, a Potential Threat Looms
Amazon has long dominated online retail through its massive product selection, quick delivery times, and advanced supply chain management. However, TikTok's move towards e-commerce could pose a significant threat to this dominance.
TikTok brings a unique blend of entertainment and shopping, creating a new form of 'shoppertainment' that can keep consumers engaged for longer. Its algorithmic feed, built on understanding users' preferences and behaviors, allows it to present products tailored to individual tastes, making the shopping experience more personalized and engaging.
In addition, by sourcing products directly from manufacturers, TikTok has the potential to undercut Amazon on price, providing value-seeking customers with a compelling alternative. Furthermore, the integration of shopping directly into a social media platform could appeal to younger consumers who value convenience and seamless user experience.
Shein Under the Spotlight
Shein's rise to prominence has been built on its ability to capitalize on fast fashion trends and deliver a diverse range of affordable clothing options. TikTok's venture into e-commerce, particularly with its focus on sourcing products directly from Chinese manufacturers, is likely to strike at the heart of Shein's business model.
As a platform known for viral trends and having a finger on the pulse of youth culture, TikTok has an inherent advantage in anticipating and promoting fashion trends. Coupled with direct access to manufacturers, TikTok could potentially outpace Shein in delivering trend-driven, affordable fashion to its users.
A New Competitor for ClickBank—And All Affiliate Marketing Platforms
ClickBank has long been a prominent player in the world of affiliate marketing, serving as a marketplace for product creators and affiliate marketers. However, with TikTok's new shopping feature, a new kind of affiliate marketing could be on the horizon.
By offering a platform where influencers can promote products directly in their short videos, TikTok could attract both marketers and brands looking to tap into the platform's vast user base and high engagement levels.
The 'shoppertainment' model could thus offer a more engaging and seamless way for consumers to discover and purchase products, potentially reshaping the affiliate marketing landscape.
A Western Weibo
In China, Weibo has been a powerful platform for brands and influencers to reach their target audience. The app has successfully integrated e-commerce elements into its platform. Much like TikTok, Weibo uses a variety of strategies to promote its e-commerce presence. However, the approach is quite different.
Weibo primarily uses its platform to promote products and redirect users to external e-commerce sites, such as Alibaba's Taobao and Tmall, for final transactions. They have also mastered the art of live streaming, an effective tool for influencers to sell products to their followers. Weibo also benefits from its in-depth integration with Alibaba's e-commerce ecosystem.
TikTok's approach to e-commerce is more direct and integrated. Instead of redirecting TikTok users to external e-commerce sites, they plan on hosting the entire shopping experience within their app. This approach could potentially provide a seamless and convenient in-app shopping experience for users.
TikTok also has the advantage of learning from the challenges faced by earlier entrants into social commerce. For instance, they have taken steps to prevent gimmicky sales tactics and focus on providing a high-quality user experience, which will resonate well with Gen Z.
Is TikTok the Future of E-commerce?
TikTok's foray into becoming an e-commerce platform holds significant potential for reshaping the online retail landscape. With its distinctive blend of entertainment and shopping, direct sourcing of products, and ability to leverage user data for personalized recommendations, TikTok's online store may well prove to be a formidable competitor to established players like Amazon, Shein, and ClickBank.
They're set to bring a whole new meaning to the hashtag #tiktokmademebuyit.
As we continue to observe this space, one thing is certain: the intersection of social media and e-commerce will be an exciting space to watch. As these platforms continue to evolve and disrupt traditional retail norms, we are likely witnessing the future of retail – one where in-feed shopping, entertainment, and social interaction are seamlessly intertwined.
For you as an e-commerce merchant to stay on top of any growing trend, it's important to have the right payment processor backing your small business. DirectPayNet will help you future-proof your business account and processing power, so you can sell anywhere whether you tackle TikTok videos or stick to traditional direct response methods.