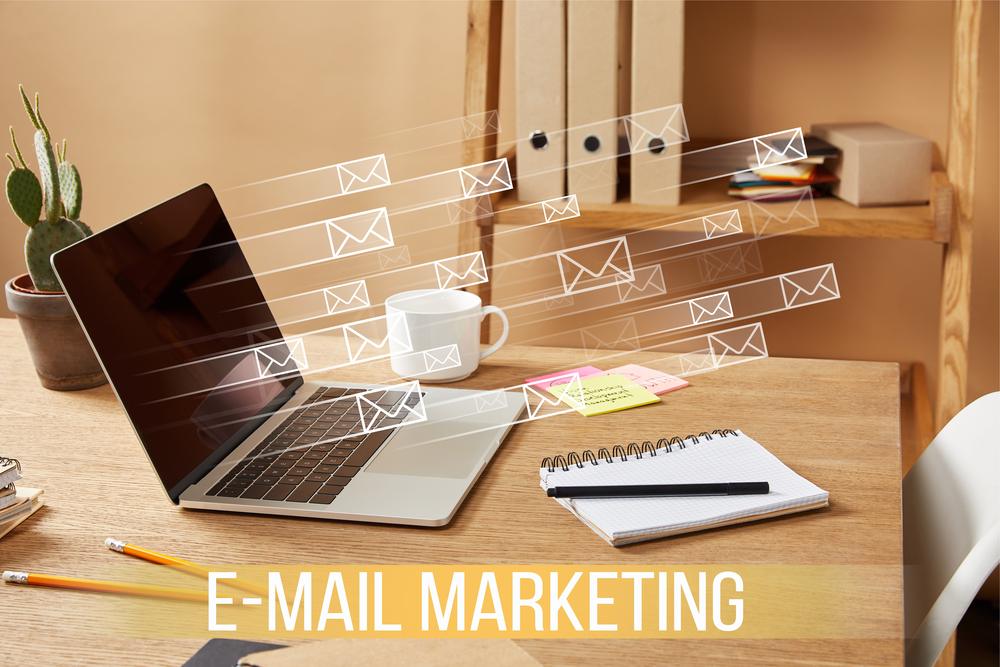 Turn 1 Sale into 10 with Email Marketing
Aug 1, 2022 3 minute Read
Direct email marketing is an essential part of any successful online business.
The more people you can reach with your message, the greater chance that someone will be interested in what you have to offer. Email marketing is becoming more and more important for businesses of all sizes—and it gives you a chance to reach customers who avoid social media, leave their cart, or want the latest deals.
In this post we'll go over how to use email marketing as part of your overall sales strategy.
Email marketing can be a great way to grow your business. It's not just about sending out a newsletter or coupon; it's about building brand awareness and increasing sales. There are many ways to use email marketing, from simple newsletters and transactional coupons to more complex email marketing campaigns.
Correspond with new customers by sending a thank you or welcome email.
Thanking customers for their business is a great way to make them feel appreciated, but don't let it stop there. Using a direct marketing email template that you can modify with each new customer will keep things consistent and help you get organized as you grow your business.
Besides being courteous, these welcome/thank you messages are ways to let your customers know you're listening to their needs. Email is the primary method of communication between you and your customers, so by sending an email to them right off the bat gives them a secure method of contacting you if the need arises.
You can test the best thank you or welcome email template by monitoring click-through rates.
Use a service to extract email addresses from site visitors.
You've been collecting email addresses on your site for a while, but you want to make sure that you're doing it right. Your first step is to start with a clear and consistent opt-in process. Your second step? Use an email service provider like MailChimp or Constant Contact CRM to maintain your growing email list.
These email marketing software or SaaS providers are perfect for small businesses who don't want to spend big while offering the metrics and segmentation needed to personalize each campaign, including a/b testing functionality. And now, these providers are turning more and more into marketing platforms complete with landing page creation for new products and customizable workflows to optimize who receives what (which helps increase the value of your marketing efforts..
Remember: You don't have permission from these people to send them digital marketing messages unless they explicitly opt-in.
Having said that, there are services that can extract email addresses from a visitor's device ID. They would have to agree to the terms before you're allowed to grab that address, but it's a simple "accept" button instead of a long form (and, of course, GDPR compliant)
With this type of service, for example idEngine, you can gain more leads and convert more visitors without increasing your ad spend, which makes multiplying your return on investment inevitable. This type of content marketing automation sounds like the future of direct email marketing, to us.
No matter how you're obtaining email addresses, you should always have an "unsubscribe" button at the bottom of your emails.
Present regular customers with custom offers.
Another way to encourage repeat sales is by offering repeat customers custom offers. They are encouraged to shop more often with this kind of loyalty program, and you can also follow up on their sales history and use that information to tailor the best possible offer for them.
If you want your emails to be more effective at converting, make sure that they are relevant and personalized. When sending emails out regularly, it's important not only that you remember who your audience is but also what they like or dislike in terms of offers or products.
For example: if someone has bought several items from your store in the past but haven't made any purchases lately, then sending an email offering a discount code would probably be a good idea – as long as it's for item they're interested in.
Reduce cart abandonment issues by emailing offers directly.
The first step to reducing cart abandonment is by emailing offers directly. Special offers, coupons , free shipping offer, or a gift with purchase is perfect for abandoned carts and new subscribers.
If your product is priced at $20 then create a direct mail marketing offer such as "Buy one get another for $15" or "Get 40% off", etc. These offers will help you convert more sales into the checkout process.
Free shipping is always a winner for consumers. They get the deliverability they're looking for and you spend an extra $5 on shipping. Sounds like a good compromise.
A free gift like a dopp bag or gift card is also a good way to secure the sale. It really depends on why the customer abandoned their cart.
In cases where customers abandon their cart because they can't afford the product, you have a couple of options. The first is a discount code. The second is payment installments. Proprietary plans work with a bit of setting up, but you can also offer well-known options like PayPal, Affirm, and Klarna.
Offer payment installment plans for customers who attempt a purchase but don't see it through.
Installment plans are a great way to make customers feel valued and help them understand that you want them to have what they're looking for. Sales that start with an installment plan also go more smoothly because it's easier for the customer when they don't need to come up with a payment right away.
NOTE: These 3rd-party providers for installment plans also reduce chargebacks on your end. The provider is the one subject to payments and related issues, not you.
If you offer an installment plan, then you can include this information in your email marketing messages by saying something like: "Low on funds? Buy now and pay later!" This shows that you understand how difficult it is sometimes for people to pay their bills on time but still deserve to shop, which will show integrity on your part as well as compassion.
Include a link at the end of each email message so recipients can easily click through and sign up if they're interested in making payments over time rather than paying everything at once (you'll also get more business).
Keep emails short and personalized.
Here are a few simple techniques to help get your email open rates soaring. Follow these tips and you'll see an increase in opens and clicks, which means more conversions and more sales.
Make the subject line compelling: Your subject line is the first thing your customer will see when they open their inbox. Your goal is to make them want to keep reading—so be pithy and interesting. If you have a strong offer, something like "10% off!" or "Free shipping!" at the end of your sale period might be enough to garner attention. If not, try using their name or some other way of personalizing it (e.g., "John Smith's birthday sale" or "Happy Tuesday"). You can also try adding some humor if that suits your brand identity best—but don't go overboard on puns or anything too cheesy or cringeworthy.
Use the customer's name in body copy: It may seem obvious, but there are many people who still forget this one simple tip whenever they send out an email campaign—and that's why so many emails end up being ignored by subscribers (or worse yet…spam filters). So remember: use first names if possible; otherwise just use whatever name works best for each situation (e.g., Mr./Ms./Mrs.).
Email as often as necessary: There's a fine line between emailing and spamming. You want to send emails often, but only as often as you have content to talk about. If you're struggling to find something to say, skip it. Or send a simple discount code as a thank you for being your customer.
Email marketing can increase sales and grow your business.
Email marketing is an essential part of any business. It's an effective way to reach customers, and it can be used as a cost-effective marketing tool. The best part? It helps build customer loyalty and increase sales.
While you might not be able to increase your store's reach with just email marketing, you can certainly increase your visibility and brand awareness through it.
With this in mind, remember that a good email marketing strategy should always emphasize personalization over any other factor—including price or promotion. After all, if your customers feel like they're being treated like one-off shoppers instead of valued individuals who may turn into repeat customers (or even loyal fans), then why would they want anything else from you?
With the recession here, email marketing is one factor of your business you want to push even harder. You want your current customers to stay with you and new customers to see your value, even when they're not keen on spending.
To make that happen successfully, you need a payments system that works the way your customers expect. Whether it's typical credit card payments, loyalty programs, or installment plans, you need it to function. That's what DirectPayNet specializes in—getting you set with a payment processor and gateway that works to your benefit.
Get in touch with our team today to open your account and set your ecommerce business up for success during this recession.