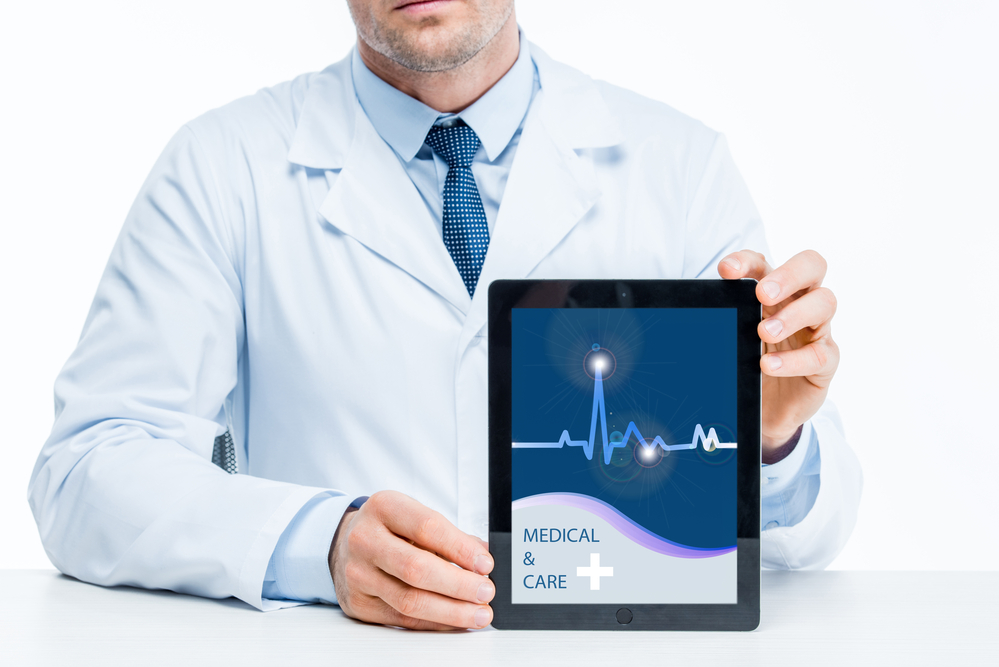 7 Reasons to Offer Telemedicine Across State Lines in 2022
Jul 6, 2022 2 minute Read
Telemedicine is an integral part of the future of healthcare.
Already, consumers are able to receive care from doctors and other medical professionals via video chat and other means.
However, telemedicine is often limited by federal regulations regarding state lines. A multistate practice model helps address geographic barriers associated with providing services across state lines so that consumers can access medical resources economically and safely.
Providing telemedicine across state lines will increase reliance on your service and boost your bottom line. Here are 7 reasons to get on board.
The health care industry is one of the fastest growing sectors of the economy, and is projected to grow to $175 billion by 2026.
This growth has been fueled in part by advances in technology that allow patients to get care remotely instead of traveling across town or state lines for treatment.
We can thank, in some part, the covid-19 pandemic. Due to the public health emergency, remote medical appointments and follow-ups became a much larger focus for health care professionals and patients, alike.
Telemedicine offers many benefits for both individuals and doctors:
it allows patients who don't live near a hospital or physician's office access to medical attention
it helps reduce long waits during busy times when clinics are full; it can help reduce costs by allowing physicians more time with each patient rather than having them rush through appointments due to limited hours spent in their offices
most importantly, telemedicine reduces stress on both patients' bodies and minds
Some of the most popular states/locations for telemedicine and the use of telehealth include:
Alabama
Arizona
Colorado
Connecticut
Florida
Massachusetts
New York
North Carolina
Texas
Washington, DC and the counties surrounding the District of Columbia
West Virginia
Today's consumers and patients are more connected than ever before.
Mobile devices have become an integral part of daily life and have changed how we shop, bank, network, and even get health information. The way we seek help about our health and wellness has also evolved.
As such, consumers' growing demand for convenient access to medical services is fueling the growth of telemedicine in America.
In recent years there has been a surge in companies offering telemedicine services across state lines—and some are even promising 24/7 availability via chat or video apps so customers can connect with their physicians at any time they need it.
Telemedicine makes receiving meds for things like hair loss, erectile dysfunction, PrEP, and preventative reproduction easier.
You can order them through your smartphone or computer and receive the prescription in the mail with no need to travel to a pharmacy via telehealth visits.
This makes access certain drugs or types of care less stressful, more convenient, and safer.
Telemedicine is changing how people get healthcare because it's convenient and easy to use. Consumers can get birth control and the morning after pill easily with telemedicine, without judgement from a pharmacist or community.
In a time where reproductive rights are in question, many individuals are either too scared to go in person or no long have access to facilities that can help. Telemedicine bridges that gap.
They can also receive HIV prevention meds, which is one of the most recommended drugs for sexually active people.
Many men suffer from some form of ED at some point in their lives. And treating it can be embarrassing. With the help of services like Roman and Hims, correcting ED is easier than ever.
Mental health services is a growing industry, as well. If you work with psychiatrists then you can combine their talk therapy with medication delivery for a full-service operation.
A multistate practice model helps address geographic barriers associated with providing telehealth across state lines.
Telemedicine has the potential to disrupt the health care status quo. For patients, it can increase access and improve outcomes. For state providers, it can reduce costs, improve quality of care and increase revenue.
Telemedicine offers unique opportunities to bridge geographic barriers by expanding access to care in rural areas or underserved communities where patients may otherwise have difficulty finding a doctor or getting an appointment quickly enough for urgent care needs that don't warrant an emergency room visit.
Services can offer remote monitoring and virtual consults easily and effectively.
For business owners or entrepreneurs looking to get into the healthcare industry, providing a product like hair loss treatment, ED meds, or birth control using virtual consultations with connected physicians is the best way to get into the field.
What's better, if you operate the service-side, you can connect with physicians in various states to avoid shelling out for multi-state licensure. You'll have more physicians on call and less roadblocks while offering a service that covers all 50 states.
Telemedicine often improves access to care, especially for patients living in rural areas or who are unable to travel.
Telemedicine is a great way to help people get the care they need when they need it. It is especially useful for people who are unable to travel due to health conditions, or those living in remote areas with limited access to healthcare providers.
For example, telemedicine allows rural patients in Alaska and Hawaii to connect with doctors thousands of miles away through video conferencing technology. Telemedicine also helps patients who live far away from their primary care doctors or specialists by allowing them to receive treatment remotely at home using secure web-based communications systems that allow physicians and other medical professionals to monitor their condition while providing guidance and prescriptions if necessary.
Offering telemedicine across state lines isn't so tricky, depending on your business model.
Telemedicine providers can offer services across state lines if they meet certain state requirements set forth by each state they serve (which vary).
These requirements include:
licensure requirements within each state where they operate
insurance coverage agreements between those states' respective Departments of Insurance/Health Care Authority (or similar agencies)
compliance with all applicable federal and state laws governing interstate commerce such as HIPAA protections pertaining specifically towards electronic health records stored outside one's home state jurisdiction without prior consent from their local state physicians, or with the Federation of State Medical Boards and the Interstate Medical Licensure Compact
That's for physicians and clinicians being certified to practice telemedicine across state lines. As we know, different states have different medical licensing boards and health policies.
But you, as a business owner, don't need to meet these requirements. Instead, you can either work with doctors who have met multi-state licensing requirements or you can contract with doctors in each state you want to offer your service in.
Offering telemedicine across state lines allows consumers to access medical resources economically and safely.
With the advent of telemedicine, patients have more options for treatment than ever before.
This is especially helpful for people in rural areas who need access to specialists or those who are traveling and want to see a doctor. Telemedicine can also be used by consumers seeking treatment for minor injuries, as well as those with chronic conditions such as high blood pressure or diabetes.
Telehealth services are an important part of the future of health care delivery in the United States. According to the U.S. Department of Health and Human Services (HHS), telehealth will play an increasing role in treating chronic diseases such as diabetes and hypertension, which account for about 75 percent of all Americans' medical expenditures each year.
The possibilities are truly endless. And as regulatory requirements adjust to our new technologically advanced world, telemedicine will only improve.
Plus, by accepting medicare and medicaid services, you can provide an affordable, accessible platform for a variety of consumers who benefit from these health insurance waivers/reimbursements.
Start your interstate telehealth business now.
It's best to get into this field now while it's still growing and relatively un-congested.
Build your network of physicians, physician assistants, physical therapists, nurses, psychologists, and social workers to use electronic communication technology for diagnosing illnesses, monitoring patients remotely, and prescribe medications electronically through secure videoconferencing systems.
Start today by getting in touch with our team here at DPN. We'll help you cover the payments-side of the telemedicine industry so you can focus on building your service and expanding across all 50 states.