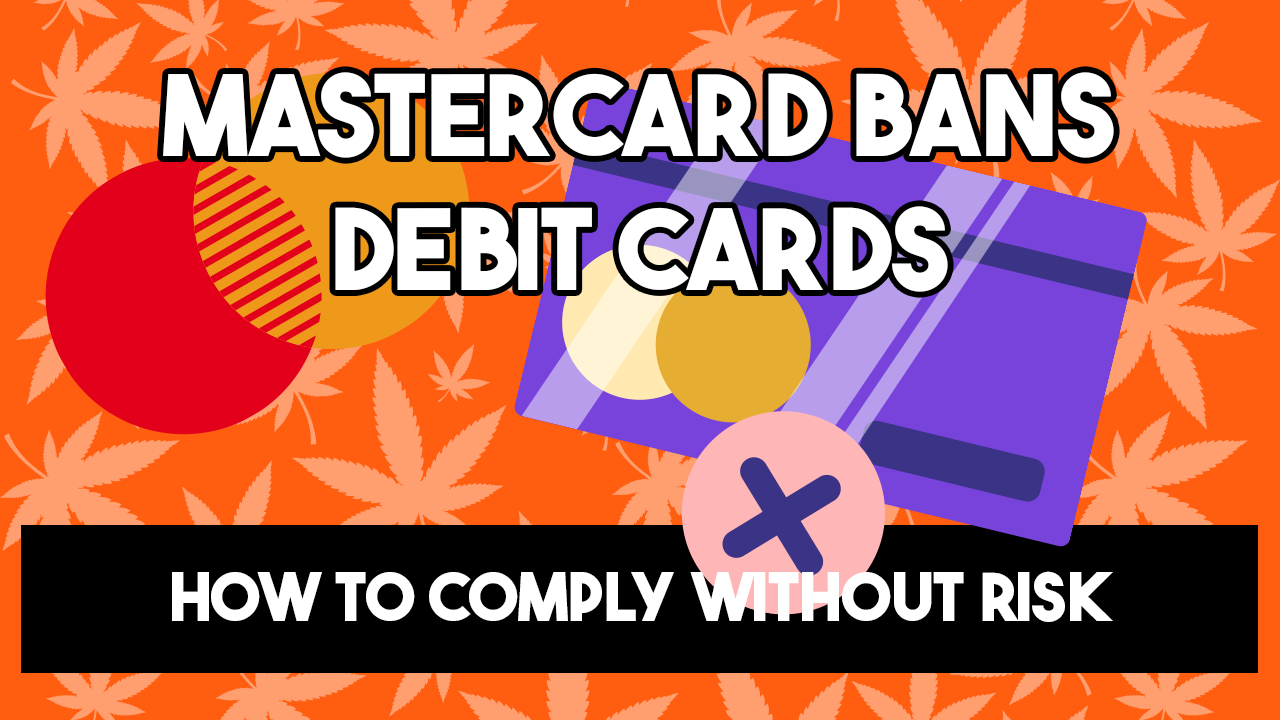 Mastercard Bans Debit Cards for US Cannabis Shops, How to Comply without Losing Customers
Aug 4, 2023 2 minutes
Mastercard recently made a controversial decision that sent shockwaves through the burgeoning cannabis industry. The global financial giant instructed US-based cannabis shops to cease accepting its debit cards, citing federal laws that still classify marijuana as an illegal substance.
The crackdown is instilling fear in cannabis merchants across the US. But what does this move mean for online CBD, cannabis, and marijuana merchants? Should you block all Mastercard transactions?
Mastercard's Stance Against "Illegal" Purchases
The move by Mastercard has been widely perceived as a significant hurdle for an industry striving to move away from a cash-only model. It stems from the mismatch between state and federal law in the United States, where despite marijuana being legal in 38 states, it remains illegal at a federal level.
Mastercard argues that as long as the federal government considers cannabis sales illegal, these purchases cannot be facilitated on their systems. They've mandated U.S. banks and financial institutions providing payment services to cannabis merchants to terminate this activity.
The Impact on the Cannabis Industry
This decision doesn't only impact physical shops; it poses a significant challenge for online CBD, cannabis, and marijuana merchants. One of the central appeals of online shopping is the ease of digital payments, an option that could be largely compromised by Mastercard's recent announcement.
Furthermore, Sunburn Cannabis CEO Brady Cobb argues that this decision is a substantial setback for state-legal cannabis businesses and consumers eager to access this expanding category.
Mastercard's stance is understandable from a logical perspective. Considering the credit card network is a business, itself, it needs to maintain good standing legally. And if cannabis merchants are just a small percentage of their user base, then it's not such a hit to their bottom line to deny service.
However, cannabis merchants still need payment processing and Mastercard is one of the most popular. So what do merchants do? Is there a way to ONLY accept Mastercard as a credit card, not a debit card? Answers below.
Payment Solutions for Cannabis Merchants
Mastercard is one of the most popular card networks not just in the states, but worldwide. Having said that, it's not the only one. Visa, American Express, and Discover are the other 3 most popular networks, with Visa leading the way and AMEX having the most loyal customer base.
So what does that mean for cannabis purchases? Here are some strategies you can utilize.
Deny All Mastercard Transactions
The easiest step to comply with Mastercard is to simply deny all transactions made through their network. Depending on your state, this strategy might be the best option anyway considering the legalization of cannabis in your area.
For example, operating in a state like California or Colorado is virtually problem-free. But most other states (including Washington DC) have made it difficult to understand what is legal and where. And if you operate in a republican-dominant state, then denying Mastercard entirely and complying without question could help lawmakers see the cannabis/marijuana industry as more mature and legitimate.
Deny ONLY Mastercard Debit Card Transactions
This option is more involved, but shouldn't be too difficult.
First, you can contact your payment processor or gateway and request that all Mastercard debit card purchases are declined immediately. All card transactions appear in the gateway and through the processor with a code. That code is different for debit card and credit cards, so your provider should have no problem with your request.
Second, you can do it yourself by logging into your gateway and manipulating a few settings. This can be complicated and the process differs depending on the gateway you use. However, once you learn how your gateway works, you can really get into what types of transactions you want to accept.
For example, you can set a maximum amount of attempts for payment with the same card or from the same IP address, or you can set acceptable currencies if you operate internationally.
Things to Keep in Mind
Even though Mastercard moves against cannabis companies, your customer base might predominantly use that card network. So denying transactions and leaving customers in the dark can seriously hurt your marijuana business, dispensary, or online CBD store.
Knowing this, you should aim to notify why certain cards are not accepted AND give them an easy alternative. The goal should be to minimize the impact on your customer base.
Legislation and Hope for the Future
Despite the setback, there's hope. The US Senate is aiming to pass a law that would ease the interaction between cannabis businesses and financial institutions. Such a move could potentially mitigate the current friction between federal law, financial services, and the cannabis industry.
The fact that regulators continue to battle against each other regarding legal weed and card networks are sending cease-and-desist letters to ban cannabis purchases is disheartening for the cannabis community. But it's just another hurdle that needs to be overcome so the industry can continue.
So, Is Accepting Mastercard Worth the Risk?
Given the current climate, online CBD, cannabis, and marijuana merchants may want to rethink their payment strategy. Mastercard's decision highlights the regulatory risk of relying too heavily on traditional payment networks. Diversifying payment options may help navigate these uncertain waters.
While it's a difficult decision, businesses must weigh the potential risks against the undeniable convenience that card payments offer to customers. As we wait to see how federal law evolves and how payment providers respond, one thing is clear: online merchants need a dependable and flexible payment partner.
At DirectPayNet, we understand these challenges. We have a history of working with high-risk industries, and we've developed strategies to help businesses like yours navigate regulatory complexities. Don't let payment processing stand in the way of your growth. Open a merchant account with DirectPayNet today, and let's build a secure, compliant, and customer-friendly payment experience together.