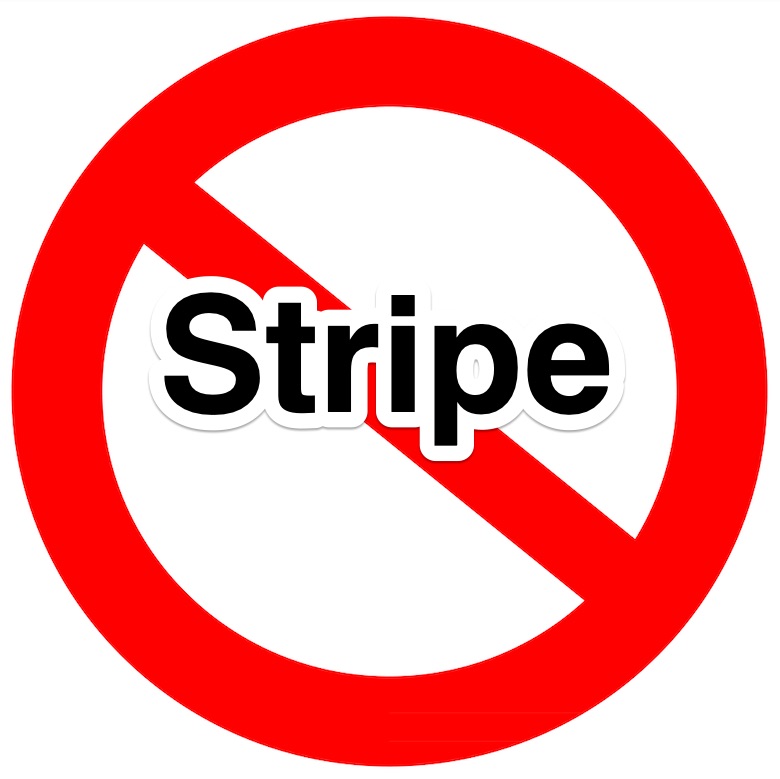 Is your business type restricted from using Stripe?
Mar 29, 2021 4 minute read
Stripe Telling Legitimate Startup Businesses They're Not So Legitimate After All!
2020 saw a profound shift towards the digitization of business.  The creation of new small businesses online surged as a swath of freshly unemployed professionals, especially in the hospitality services sector, launched small businesses online.
Small business models seem to share one thing in common – credit card payment processing. Small business owners built their website, set up a business bank account, and got set up with a payment processing mechanism to allow customers to checkout with a credit card.
Voila.  E-commerce at its finest. What could go wrong?
Plenty.
The ability to accept MasterCard, Visa, or other credit cards as online payment is as essential as having a bank account itself.  Every small business that accepts credit card payments is required to have a financial services agreement with a service provider or a payment gateway.
Enter Stripe (or PayPal) – It isn't uncommon for small business owners who are newer to online business but want to accept credit card payments to naturally gravitate towards the more common payment processors like Stripe.
Granted, these two payment processors have the largest presence in the credit card payments market and, oftentimes, these two companies are the first choice for small business owners who want to accept credit cards.
However, there is more to these payment processors than just credit card processing.
Fact: 91% of consumers agree to the terms and conditions of a service or product that they're purchasing or using, without reading them.
In the case of Stripe, the consequences of your business being suddenly labeled as prohibited and/or high risk can be catastrophic if your Stripe account is suspended and payment methods no longer work.
Again, it isn't uncommon for small businesses to set up their online payment processing with Stripe because it's the easiest and most popular payment processing option available.  But if your small business is using Stripe for payment processing and then it determines that you are a high-risk merchant, your account gets frzen with no way to access your money.
The real liability is that a small business can begin processing payments with Stripe or Paypal as an acceptable merchant but because of constantly evolving rules, a small business considered legitimate one day can be a restricted business the next.
It is wise for small businesses not to get in this mess in the first place.
Small business owners should consider that there isn't one single payment processing solution that applies to all merchants.  There are financial partners and options for those legitimate small businesses that suddenly find themselves on Stripe's list of prohibited businesses.
Stripe proclaims to want to help all small businesses, but it certainly won't support small businesses selling illegal products or services.  Stripe is very prone to be particularly hard on products that are legal in some states, but not others.  It's called a blanket-ban.
What kind of small businesses fall on Stripe's "high risk" or prohibited businesses list?
Stripe's definition of high-risk or restricted businesses is lengthy.  Items like nutritional supplements, jewelry items, and even travel accommodations are considered high risk, restricted businesses on Stripe.
Specific examples of prohibited businesses include:
Travel 
The volatility in the fulfillment of services like rentals bookings, and accommodations using credit cards make these a problem for payment processors like Stripe.
Online Gaming
Gambling and fantasy sports fall under this umbrella.  PayPal is especially strict with these services due to state regulations on gambling.
Digital Goods and Services
Intangible goods, particularly on Shopify, can be a problem for Stripe.  Digital purchases made with credit cards are more vulnerable to customer disputes making ebooks, e-learning, and marketing service packages high-risk items.
Foreign Exchange (Forex)
Considered one of the most volatile investments on the market, partly due to its high chargeback rates.
Adult Entertainment
The main payment processors like PayPal flat-out ban any NSFW content.  That includes adult toy stores, digital adult content, cams, and even adult dating.
Jewelry and Precious Metals
Sellers of high-ticket purchases like precious stones or metals require pre-approval on account of payment processors who would rather not have to worry about chargebacks or scams for highly-priced items, and the increased probability of overdrafts.
Nutraceuticals
Lack of FDA endorsement is a problem.  Health supplements, vitamins, and loose herbs are at high risk for legal action due to the lack of FDA regulation.  There is just too much grey area for popular payment processors like Stripe or PayPal.
This list isn't all-inclusive.  Other prohibited businesses include:
·         CBD Products
·         Payment processors
·         Telecommunications Services
·         Financial Institutions
·         Telemarketing Services
·         Online Pharmacies
·         Tobacco and e-cigarettes
·         Non-profits
For any of these businesses, it is much less risky to work with a reputable high-risk payment processor like DirectPayNet who has the expertise and skills to work with high-risk businesses and mitigate risk.
By now you can probably sense that this blog intends to clearly demonstrate why Stripe is just not a reliable solution for any legitimate high-risk businesses.  It is most unpleasant to find out after having set up with Stripe or some other out-of-the-box payment processor that your business has suddenly been labeled high-risk, even though your products are legal.
If your payment processing is being done with Stripe and you know you might be high-risk, such as a seller of e-cigarettes, a wise strategy is to get set up with another payment processor now.  It is better to go this way rather than getting kicked out with no backup plan in place.
If you're still not convinced, then ask yourself why the hell are there a slew of other payment gateways out there…?
Or, imagine you have an online business, you've built a great customer base closing over $50K in sales a month, and one day, almost arbitrarily, find out your payment processor (Stripe) decided your business is a little too saucy and terminates your account; unilaterally shutting the business down just like that.
How a Merchant Account Can Protect Your Revenue
Establishing a merchant account with a payment processor like DirectPayNet is excellent protection for companies who may be at a liability of falling on Stripe's "prohibited businesses" list.  It can be the difference between life and death for a small business in terms of protecting small business revenues.
It is worth noting here that small online businesses that see excessive transactional volume or that generate credit card revenues of $20K or more in a single month can be the recipient of unwanted attention by a payment service provider, like Stripe.  These activities are considered worthy of analysis by payment processors and funds are very prone to being frozen, taking a perilous toll on a small business.
Setting up a merchant account with DirectPayNet enables a small business to accommodate recurring orders, pricey transactions, and a high volume of online transactions, without the associated risks of being a so-called "prohibited business."
It's also worth noting here that one proactive strategy is for a small business to download and catalog its monthly statements – In the event that a payment processor "freezes" an account as a result of it now being high-risk, these monthly statements can be crucial.
It is very possible these monthly statements will be required to set up a new merchant account as proof that a small business can generate revenue.
Risk should be closely watched and mitigated by ensuring refunds and chargeback rates are kept low.
DirectPayNet & Load Balancing
Once a company gets bit by Stripe or PayPal for being high-risk, there is little that any other resource can do to UNdo what these companies have done to a small business once they are labeled as a prohibited business.
Far too many companies come looking for help after the damage has been done.
DirectPayNet is a very reputable payment processing alternative with a verifiable history of providing excellent service to high-risk businesses because DirectPayNet has a better understanding of high-risk business models, making us the payment processor of choice for businesses that could be considered high-risk.
The key advantage that DirectPayNet can offer clients is a clear understanding of high-risk or grey area business models as well as the best banking partners to support them. As a high-risk merchant, having a backup merchant account will allow you to avoid bottlenecks and potential business closure should Stripe freeze your account. You can load balancing by diverting a portion of sales to a specialized high-risk merchant account to ensure your business has a viable payment processing backup to Stripe.
When a small business works with DirectPayNet to correctly apply the concept of load balancing, it protects the business with a back-up payment processing plan in the event a business gets labeled as high-risk, or as a prohibited business.
Ultimately, the sooner you consider DirectPayNet for your credit card payment processing requirements, the sooner you can stop worrying about landing "on the wrong side of the payment processing fence."
To find out more about working with our team and getting a merchant account,  contact a member of our expert team today to discuss how a backup to Stripe is best for any high-risk business.